Underworld 3 Without Beckinsale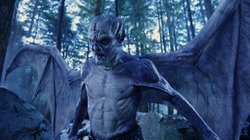 I wasn't thrilled or chilled by Underworld. But Underworld Evolution was another thing altogether. I felt the film went deep, very deep, into the mythos of its signature vampires and Lycans. And it looked a lot better than Underworld. Now, reports Bloody Disgusting, Underworld 3 will began shooting in sometime between January and March, 2008, in Auckland (of all places).
Since Kate Beckinsale has refused to participate in the 2009 release, the movie will be a prequel. Yet even though hubby Len Wiseman will write and direct the movie (as he has the others), Cinema Blend believes it will go straight to video without wife Kate. (I doubt that.) Says Social Media, "Wiseman said the film 'will be the origin story and we find out things
we didn't know about Lucian; he'll have a much bigger part in it. It
will be about the creation [of the races] and what started the war. It
will be a period piece… It will be in the time period before, but it
will overlap into the creation of her [character] as well. We're in the
process of seeing how far we go with that.' That sounds good to me, whether Kate's in it or not.
Read More