TV I Won't Watch: Regis & Kelly in 3-D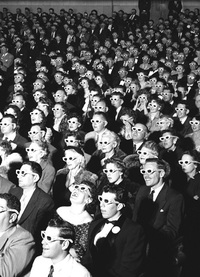 Our pals at Monsterfest were just raving about Night of the Living Dead 3D .
I'm a 3D enthusiast, but I must draw the line at Regis Philben in 3D. ABC announced that the Halloween episode of Live with Regis & Kelly will be broadcast in 3D, with glasses available at participating Walgreens.
In an effort to balance the 3D karma, I present one of my favorite 3D clips, it's the rarely seen trailer for Albert Brooks' first feature film Real Life.
Read More