Trailer for Screamfest's "Room 205"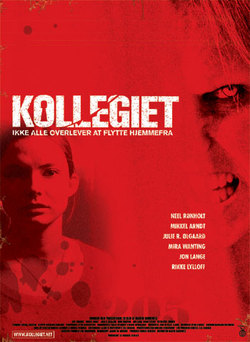 There's something about living alone that you never quite get used to. Every creak, bump and squeak is amplified, and you always have that nagging fear that you left the door unlocked before going to sleep; that someone is in the closet or behind the shower curtain.
That's the feeling you get watching a new Danish horror film screening at the Screamfest festival in L.A. When a young woman moves into Room 205 (Kollegiet in the original Danish), her excitement for her college freedom is soon eclipsed by terror. The trailer for the film has just popped up online. Screamfest director Rachel Belofsky dropped the trailer news on Fangoria.
The trailer is cut into two distinct segments — free-wheelin' college partying and quick-cut horror. You can't tell too much about the film other than it's a haunted room mystery. It definitely has traces of J-Horror influence — the obsession over a room, the creeping darkness and muted color palette. Room 205 will screen at Screamfest on Sunday, October 14 at 12 p.m. at Hollywood and Highland's Mann's 6.
Read More