Tonight on AMC: Young Frankenstein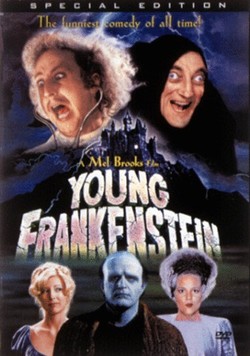 With all deference to my knowledgeable colleague John Brownlee, who casts doubt on the singing abilities of the Frankenstein monster, I've always known that the big guy has quite a way with a tune. The proof, of course, is on AMC tonight at 10 pm, when Frankenstein's grandson (Gene Wilder) and the family monster (Peter Boyle) perform their immortal soft shoe rendition of "Puttin' on the Ritz" in the 1974 classic Young Frankenstein.
One of the things that makes this parody work so well is the amount of obvious affection director Mel Brooks has for the original Universal films. Gags are built around specific scenes and characters from each Frankenstein (1931), Bride of Frankenstein (1935) and Son of Frankenstein (1939). Brooks shot the film in black and white, and went so far as to retrieve some of the the props and sets used in the original Frankenstein.
Inspired by the success of Brooks' Broadway adaptation of his film The Producers (1968), a Broadway version of Young Frankenstein is currently in previews prior to its official opening November 8. You can get good seats for $450; balcony seats (you know, the ones where you can't see anything) start at $60. Given the choice, I'd much rather park myself in front of the TV: the film is just about always better, and you can buy an awful lot of snacks for $450!
Some more trivia to ponder while you watch:
—Brooks and his cast reportedly had so much fun while shooting that, when they were almost done, Brooks wrote more scenes so they could extend the shooting schedule.
—During the "Puttin' on the Ritz" scene, no one knew how Peter Boyle's monstrous voice would sound until he improvised his strangled bellow on camera, producign one of the movie's most hilarious moments.
—Marty Feldman spent a few days in his hunchbacked Igor costume moving his hump to different sides before anyone noticed. When they did, the gag was written into the script.
—The Aerosmith song "Walk This Way" was inspired by a gag in the movie.
More posts about Frankenstein:

You Will Believe That Frankenstein Can Sing

The Monster in the Man
Clips: All Things Frankenstein
Read More