Tintin Trilogy Writer Announced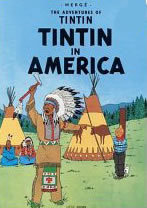 The DreamWorks Tintin
trilogy, due out in 2009, will be scripted by British television writer Steven
Moffat (Jekyll, Dr. Who, Coupling).
Peter Jackson and Steven Spielberg are each slated to
direct a film in the trilogy; a third director has yet to be announced.
The beloved comic series on which the new films will be
based, "The Adventures of Tintin," was created by Belgian artist
Herge (real name: Georges Remi) and debuted in the newspaper "Le Vingtieme
Siecle" on January 10th, 1929.
Tintin is an investigative reporter who travels to exotic
locales like Tibet, Peru and even the moon, always accompanied by his dog, Snowy. Joined by a gang of colorful supporting
characters, the 23 complete stories have been adapted into films, television shows and
video games several times over.
The Tintin trilogy will employ performance-capture technology, which
will be familiar to viewers of Monster House and The Polar Express.
Read More