Ti West's Trigger Man Shoots the Works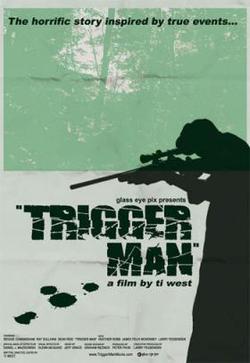 Ti West's suspenseful Trigger Man drops today in New York and, on the 21st in Los Angeles. Produced by Larry Fessenden's Glass Eye Pix, this horror-the-woods-offering follows in the tradition of Glass Eye: no big special effects, just raw, Hitchcock-like tension, enough to make you want to scream bloody murder. There's a beauty in the way the film builds slowly and sparingly, and if you're impatient, you'll be upset that it takes about 30 minutes to truly get going. But once it does, well, check out the trailer. Trigger Man grabs you and won't let go.
In The New York TImes, writer Jeanette Casoulis makes an important point about West's future, though: "It will be interesting to see if this reserve survives the increased
pressures and budget of his current project, "Cabin Fever 2." If you're not in the big city, just wait t'il this one comes out on DVD. It's 80 minutes that shouldn't be missed.
Read More