This Week's New Sci-Fi DVDs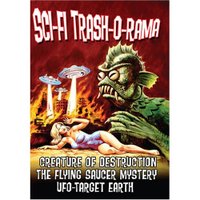 If you're headed to the video store to rent Fantastic Four: Rise of the Silver Surfer better have a backup plan. After all, it did just hit the shelves this week.
Here are a couple alternatives, both new to DVD:
Next—Nicolas Cage's third movie of the year (counting his cameo as Fu Manchu in Grindhouse) was a stiff at the box office. But no movie can be all bad when it's based on a story by Philip K. Dick, co-stars Julianne Moore and Jessica Biel, and has a cameo appearance by Peter Falk.
Sci-Fi Trash-O-Rama—I can never resist cover art this trashy. And for a change this one has some value for hardcore B-movie fans: the triple feature includes the first video release of Creature of Destruction, the ultra-obscure remake of 1956's The She Creature, which happens to be playing on AMC at 3 am Saturday night/Sunday morning.
Evil Aliens—Is that the most generic title of the year or what? Those who've seen it liken it to such stylish ci-fi gore fests as Peter Jackson's Bad Taste and Sam Raimi's The Evil Dead.
Species—The Collector's Edition—This two-disk set includes audio commentary by the director, some of the cast and FX crew, seven featurettes, and an alternate ending. Of course, it doesn't hurt that the movie itself is pretty good.
Future Zone—David Carradine and Charles Napier star in this not-half-bad time travel thriller made in 1990.
Read More