The Valerie Project Haunts America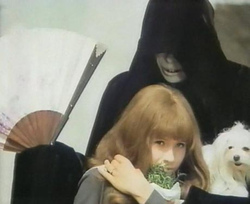 No doubt you've heard of classic silent films being accompanied by a live musical performance, but would you believe a Czech film from 1970 with its own orchestra?
For the past year, the Philadelphia-based group known as The Valerie Project has been taking performance art to a new level by melding Jaromil Jires' dark fantasy/horror film Valerie and Her Week of Wonders with an 11-piece musical ensemble that performs an entirely new score for the film. Using a beautiful new print, the Project replaces the original's acclaimed score with a beautiful new piece that makes this no mere movie but a full-blown experience; some may carp about the lack of the original soundtrack (the film's dialog is subtitled), but trust me when I tell you that this is one of the most unique and memorable experiences you'll have in a movie theater in some time.
Now, for the first time, The Valerie Project is touring with the film at various dates throughout the U.S. to support the release of the new score's CD soundtrack. It all starts up this upcoming Sunday at NYC's prestigious Museum of Modern Art with a Halloween performance in San Rafael, CA, followed by shows at San Francisco's famed Castro Theater, then a series of shows in L.A.'s famed Silent Movie Theater, wrapping up in Chicago on November 8. A complete listing of shows and dates can be found here and if you're thinking about going then make sure you book your tickets ASAP because this puppy sells out real fast. But do go, especially if you want a one-of-a-kind Halloween moviegoing event.
Read More