The Sci-Fi Art Of Ron Turner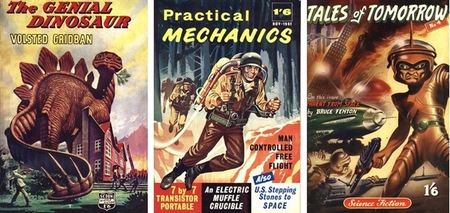 Check out this absolutely gorgeous gallery containing gads of British sci-fi pulp covers by Ron Turner. The covers are mostly from the 50's, but Turner's career spanned over six decades.
Born in 1922, Ron Turner's interest in science fiction began with the novels of H.G. Wells, Edgar Rice Burroughs, Jules Verne and film classics such as Metropolis and Things to Come. The Flash Gordon serials, together with the Alex Raymond comic strip, also made a great impression, but it was the covers of the American sf pulps, such as Amazing and Astounding which had the most significant impact, encouraging Turner to copy them and develop his interest in art.
I particularly love that jetpack in the middle there. You know, I don't care if those things (from a practical perspective) would be a death sentence for the chronically flatulent. I still want one.
Ron Turner Gallery [Flickr]
Read More