The New Anne Rice Vampire Ball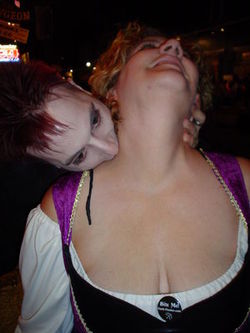 Tomorrow, I'll packing it up and taking it on the road to haunted New Orleans where I hope to attend what began as the Anne Rice Vampire Ball (better known as the Coven Ball). It's now called the Witching Hour Ball 2007, resurrected by ardent, hard-working and hard-loving fang fans (like the ones snapped by Lord-J, left). There's something about New Orleans around this time of year that makes me yearn to be a vampire there. That's saying something for someone who enjoys New York City's Village Halloween Parade more than Macy's Thanksgiving Day Parade.
But midnight New Orleans, with its old houses, its above-ground cemeteries and, yes, its post-Katrina parishes, can be darn foreboding. So I'm looking forward to checking out the new Ball, the three scary bands and all the ghostly and goth costumes, too. Of course, I'll report my findings as I hunt the vampires of New Orleans. Meanwhile, check out the Ball's Myspace Page for a slew of old videos from previous hoohahs.
Read More