The Name's Ash. Housewares.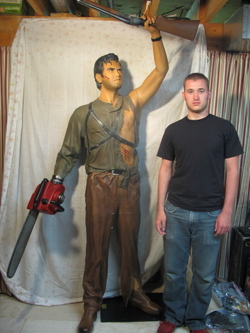 Horror fans love to take their obsessions home with them — usually in the form of nightmares. For Bryan Fulk, his horror followed him home in the form of a life-sized Army of Darkness Ash statue. Sculpted by Studio Oxmox, Ash stands just over 6 ft tall, boom stick and chainsaw in tow. The statue was created for a Evil Dead: Hail to the King video game promotion in Germany. Only six statues exist, and Fulk was lucky enough to track one down to Wisconsin through an eBay auction. After a 21+ hour journey, Fulk had his unicorn.
"It is so rare and expensive and I never really thought I'd own one. Ash is one of my favorite characters and it was McFarlane's Army of Darkness figures from Movie Maniacs 3 and 4 that marked the beginning of action figures as a serious hobby for me," says Fulk. "There was another one of these on eBay about 2 years ago that had the back of one of its legs crushed in. I almost bought it, but couldn't justify it at the time. I regretted not buying that one for a couple years and swore that if I ever got another chance, I wouldn't pass it by."
Aside from the huge awesomeness of Ash, Fulk's collection mainly consists of high-end figures from the likes of McFarlane, NECA, Sideshow, Sota, Mezco, Kaiyodo and Palisades; he tends to stay within the realm of horror. As for the future of the Ash statue…
"I don't really plan to do anything special with Ash other than let him hang out with the rest of my collection in the showroom. I'd be too afraid of the statue being damaged to take him around and show him off," says Fulk.
Luckily, he shared his collector's loot with AMC. Hail to the King!
Read More