The Last Christmas Zombie Movie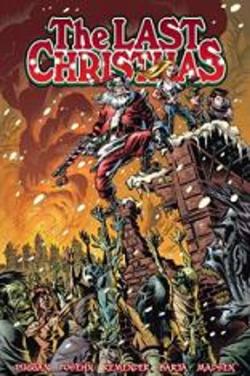 Today at CInematical, Erik Davis gives his two cents regarding the optioning of Brian Posehn's and Gerry Duggan's graphic novel about zombies, The Last Christmas. The guys who made 300 are going to do this one.
Says Davis, "In (the novel), Santa Claus has to
find a way to save the world, and Christmas, from being overrun by
demons, zombies and other bad guys. So what are they trying to say
here? What's the message? Without Santa Claus, our entire planet would
be f**ked? Seems that way. I can't imagine this graphic novel is
serious in tone (if you've read it, please speak up), but it's
definitely garnered my interest … if only because I'd like to see
Santa rip the head off a zombie and use it to kill a demon — something
tells me the kids would love it!"
Obviously, Davis has no idea what the book's really about. It's funny, sure: but it's also deep and dark. I mean, Santa goes insane and becomes an alcoholic. This one reminded me of the Golden Age of horror comics updated for the new millennium. In other words, the usually on-target Davis was just spinning his wheels when he wrote the item.
Read More