The Future Ain't What It Used To Be: The Top 50 Dystopian Movies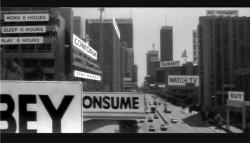 I'm less a fan of the Saturday matinee action kind of sci-fi than I am of the speculative variety. I'm fascinated by stories that essentially give a vision of what the world might be like in the future if certain trends in our own time go unchecked.
So I loved this list compiled by Snarkerati.com of the top fifty dystopian movies. Defining dystopia as "An imaginary place or state in which the condition of life is extremely bad, as from deprivation, oppression, or terror," the list ranks films based on a combination of their imdb.com and Rotten Tomatoes ratings (which of course means massive arguments in the comments section!)
I love that it has some films I'm not familiar with—One Point O, District 13—and that the rules are tweaked just enough to bring in some interesting choices—Pleasantville, Wings of Desire. Definitely worth checking out.
Read More