The Fifth Doctor Meets The Tenth Doctor for Children in Need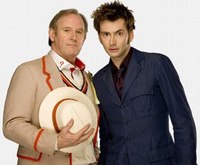 To the right, the tussle-haired Tenth Doctor, his lithe frame hugged by haute couture in hipster chic. To the left? The Fifth Doctor: balding, fat, jowly, wearing a cricketeer's outfit and with a piece of celery pinned to his lapel. It's the most exciting Doctor Who meet-up of the millennium!
The BBC has just confirmed that Peter Davison's Fifth Doctor will meet David Tennant's Tenth Doctor during this year's Children in Need special on November 16th. Children in Need is an annual children's charity appeal organized by the BBC which has been used for the last few years by Doctor Who as a way of bridging the end of the previous season with the upcoming Christmas episode.
In the past, though, the Children in Need special has resulted in some truly horrific Doctor Who manglings. For example, the execrable Doctor Who / Eastenders mash-up, Dimensions in Time. It doesn't make any sense, it's a complete embarrassment to the franchise, yet somehow you can't take your eyes away as every living Doctor (including Tom Baker) fights off the morbid effects of old age, obesity and delirium tremens to prances frenetically around through a nonsense adventure.
The soon-to-come meeting between the Fifth Doctor and the Tenth Doctor resembles something of a return to form for the Children in Need Doctor Who specials. I love Peter Davison, but he looks exactly like what he is: thirty years older than the Fifth Doctor, who died as a fresh-faced boy. Steven Moffat — the best of Doctor Who's writers — is handling it, so surely there'll be some explanation. Let's just hope it's nothing as obvious as, "Help! The Fifth Doctor is prematurely aging and only the Tenth Doctor can help!"
Still, no matter how they handle it, I can't wait to see Davison on the screen again. How can you hate a man as eminently quotable as this?
"It is an honor for me to be able to make the connection between the Fifth Doctor and the Tenth Doctor. However, now is not the time for sound-bites. I can feel the hand of history on my shoulder, even if I can't do the buttons up!"
Who Needs Another Doctor? [BBC]
Read More