"The Evil Dead" Crosses Over to Comics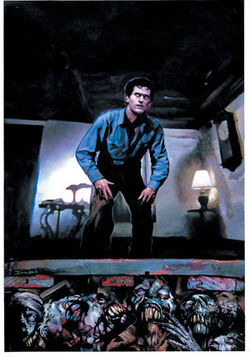 Comic to cinema crossovers seem more common these days than original ideas written for the screen. With 30 Days of Night and even The Last Christmas jumping from the pages, it's refreshing to hear about a film that is going the comic book route. Starting in January, Dark Horse Comics will be publishing a four-issue mini-series of The Evil Dead , reports Fangoria.
Since you probably know The Evil Dead story inside and out, Dark Horse is giving writer Mark Verheiden and artist John Bolton free reign to recreate the story from a different perspective. This is the way to remake a classic. Instead of ruining the cinematic experience of the film with a remake (which the rumors of such a film run rampant), moving the story to a new medium allows fans to explore the story and characters.
Read More