"The Alphabet Killer" Stranger Than Fiction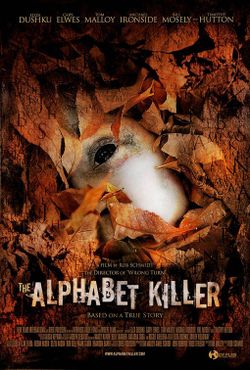 Whenever you hear that a movie is "based on a true story," it usually means that the film is 90 percent untrue. There are still those who think that the Texas Chainsaw Massacre (1974) actually happened, when in reality, Leather Head is simply a combination of several real-life serial killers.
Though the upcoming The Alphabet Killer might be just as false, it looks like the real-life events have caught up to the film. Three decades after the actual murders and weeks before the film's release, a Florida man was arrested Tuesday and charged with the murder of a seven-year-old Michelle McMurry, who was raped and strangled, reports the New York Daily News.
Is this the ultimate marketing scheme to generate buzz for this B-movie? Nope. In fact, it even widens the gap between fact and reality in "based on a true story." While the film presents a detective with some sort of mental clairvoyance who solves the crime, the real detectives used DNA evidence they took off a cigarette butt James Pressler flicked into a sewer gutter.
The Alphabet Killer is based on the 1970s murder of four girls in Rochester, N.Y, whose first and last names all began with the same letter. The most interesting twist of this ordeal is the one this capture plays on the film, if it goes with the ambiguous "the murder is never caught" ending. But now it looks as though the Alphabet Killer is behind bars.
Read More