Terminator Salvation Coming In 2009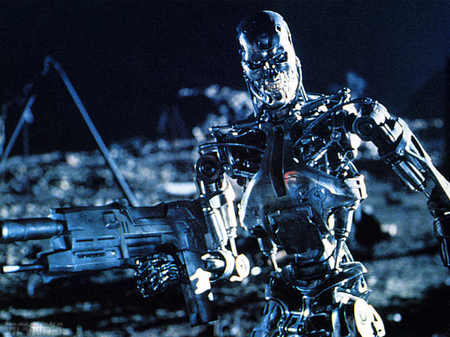 The next trilogy of Terminator films has been on the table for a while, but Warner Bros. has officially announced Terminator 4, which has been given the utterly ludicrous title Terminator Salvation.
Still, title aside, it is sounding hopeful: although headlines of the announcement have been screaming "reboot!" and "restart!" of the franchise, they are actually leaving the events of the first three Terminator film set in stone. Rather, the new trilogy will focus on the future war between Skynet and humankind, which is pretty much all that anyone wanted to see after the opening credits of Terminator 2 anyway.
This quote gives me pause though:
The producers said that the new film will carry the size and scale of "Terminator 3," and will have an event-sized budget. It will likely be less than the $200 million price tag of "Terminator 3," which was saddled with extravagant costs that included above the line payouts, rights payments and heavy fees incurred through a complex financial structure.
I don't doubt that Terminator 3 had an enormous budget, but the "size and scale" of the film felt decidedly small. I liked the film, but it felt like a mini-sequel to the first two sublime Terminator films… an excellent piece of fan fiction, captured on celluloid.
WB 'restarts' Terminator [IESB]
Read More