"Sweeney Todd": Do Dancing and Blood Mix?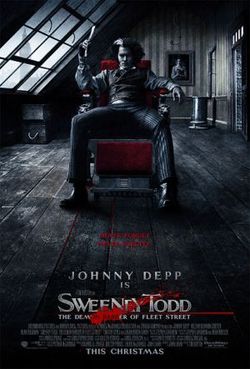 The trailer to Tim Burton's eagerly anticipated big-screen adaptation of Sweeney Todd is here and it looks like it's going to be everything you want it to be. It has macabre humor, a maniacal, go-for-broke Johnny Depp performance (some think it's his one of his best ever) and the look of Hammer Films and the late, great Freddie Francis. But the best thing about the trailer is that while it isn't giving away everything, it isn't hiding what makes Sweeney Todd so unique, either.
Despite the presence of Depp and Burton, Sweeney Todd is going to be a bit of a tough sell, thanks to two elements that don't usually mix: gore and music. In case you couldn't figure it out, Sweeney Todd is a musical – the characters often break out into songs from none other than Stephen Sondheim, as you can see in the trailer – and the horror crowd isn't usually known for their love of the musical genre. And musical fans are not ones to lap up lots of blood, which Burton has made very clear we will see quite enough of (it's rated R for "Graphic Bloody Violence"). Granted, the original Broadway show didn't back down from the blood, either, but there's a big difference the stage and the screen, where more elaborate FX make everything look worse than it does on stage.
Can musical fans stand the sight of big screen blood? Can horror fans stand the sounds of movie musicals? We'll know for sure when the movie opens on December 21, but for now you can catch a glimpse in the trailer right here.
Read More