Subway Horror Is Hip: Underground Gets Distribution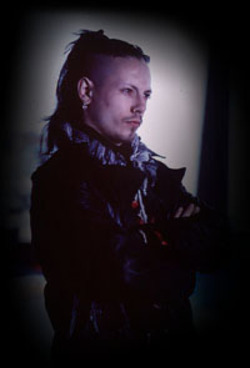 Anything can happen on the New York City subway: that's nothing new. It's been a scary place in real life and a scary place in the movies at least since The Taking Of Pelham One Two Three. But lately, horror films that take place in subways have been a thing. There was del Toro's Mimic about 10 years ago, and more recently, there's Midnight Meat Train and End of the Line.
Now, young-ish Spanish director Tinieblas Gonzalez has made Underground, which is being picked up by Filmax for distribution. Interestingly, his first name translates to Darkness. And dark he is. A translation of his Web site reveals him to be a fan of everyone from Poe to Lovecraft to Sade. And, well, his photo (left) looks dark, too, vampire dark.
So how dark is his Underground? Says Variety, "Underground combines Gonzalez's gothic horror hallmarks — it's set in
the grimy galleries of a subway — with an action storyline, turning on
four young graffiti artists who decide to daub a new subway system.
Pursued by security guards, they stumble upon a half human creature." Wonder if he got the idea of calling himself Darkness from M. Night Shyamalan.
Read More