Sputnik Still Cool 50 Years Later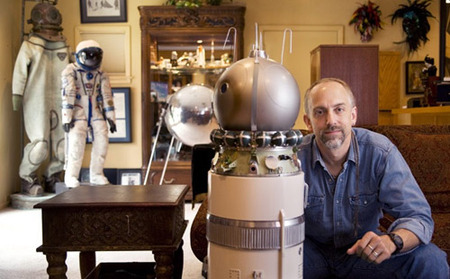 Tomorrow is the 50th anniversary of the launch of Sputnik, that fascinating orb that caused all of America to look at the skies in Cold War dread. To mark the occasion, the New York Times has posted a fascinating article on a Texas man who owns one of the original Sputnik prototypes.
What makes it so fantastic is that the Sputnik is owned by none other than Richard Garriott, creator of the Ultima series of video games. He calls it "Mr. Sputnik."
Garriott's definitely a bit fruity: what else to think of a man who wanders around in his 40s wearing a cardboard Burger King crown and demanding that people call him "Lord British?" But he's also a fascinating guy. I faked pneumonia for three months when I was in 6th grade, just so I could stay home to play Ultima VII and Ultima: Martian Dreams (a steampunk, sci-fi version of Ultima that took place on Mars!)
So I have a great deal of respect for Lord British despite my wry amusement at his idiosyncrasies, and that respect just went through the roof when I discovered he owned not just "a" Sputnuk, but the only Sputnik to be held by a private owner.
Needless to say, Richard Garriott is my kind of space nut. He launches into space on the Soyuz flight to the International Space Station late next year. I hope he brings his Sputnik along for the ride.
Texas Man Linked to Past and Future of Space Exploration by Sputnik and Soyuz [New York Times, via Boing Boing]
Read More