Snake Plissken: Quintessential American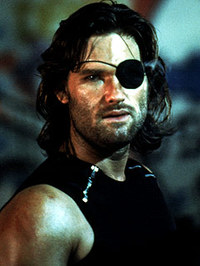 According to Variety, New Line Cinema's upcoming (and completely unnecessary) Escape from New York remake will no longer feature 300's shouting beardo Gerard Butler as the one-eyed anti-hero, Snake Plissken. The cited reason is "creative differences."
Consider this my sigh of relief. Kurt Russell, when originally hearing that the role of Snake was going to be taken over by a large-areolaed Scot, remarked: "I will say that when I was told who was going to play Snake Plissken, my initial reaction was "Oh, man!" I do think that character was quintessentially one thing. And that is, American."
I don't want to be accused of some sort of anti-Scotsman xenophobia here, but every time I read that quote, I just want to jump up and start stomping around my apartment for a half hour while shouting, "You Ess Ay! You Ess Ay!" over and over and over again. I'm totally pro-globalization: I'm an American-born Irishman who lives in Berlin.
But he's got a point: Kurt Russell, as a hero, is just far more quintessentially American than pretty much any actor since John Wayne, and Snake Plissken is the ultimate dystopian American, the kind of guy who'll throw the entire world back into the middle ages (as he did in Escape from LA) just to spite it. That role should not be played by someone who attends weddings dressed in a plaid skirt.
Butler escapes 'New York' remake [Variety]
Read More