Slicing Open The "Hatchet" DVD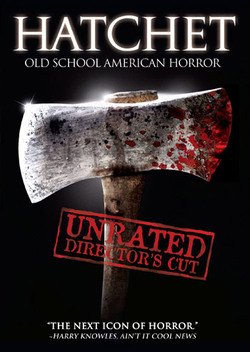 You may have heard about a slasher film called Hatchet — a balls-out horror comedy from 2006. Unfortunately, screenings have been restricted to a handful of art houses. But fear not, the DVD is on the way. The Hatchet DVD hits the streets on December 18 and will feature an anamorphic, widescreen transfer of the gruesome director's cut (the film was cut down to an R rating for theaters).
The DVD will also feature:
– Audio commentary by the filmmakers
– The Making of HATCHET featurette
– Meeting Victor Crowley featurette about the creation of the film's villain
–Guts & Gore featurette, behind the scenes of the makeup and prosthetic FX
– Anatomy of a Kill featurette on the birth, design and execution of the "jaw-breaking" scene
– A Twisted Tale featurette in which Green recounts his friendship with "Twisted Sister" frontman Dee Snider
– Gag reel
– Theatrical trailer
There will also be a R-rated theatrical DVD, which only includes the Meeting Victor Crowley featurette and theatrical trailer. So, make sure you don't pick up that version by mistake.
Read More