Silver Shamrock's Halloween Countdown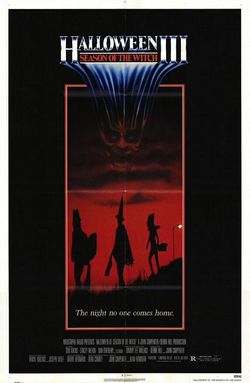 Say what you want about Halloween III: Season of the Witch. Sure, it might be the weakest in Halloween series — trading Michael Myers for a plot about a bunch of kids' masks that turn whoever is wearing them into a pile of snakes and bugs when watching the Silver Shamrock commercial — but it brought us the best Halloween jingle. Plus that skeleton kid's mask still creeps me out.
As one of the most popular holidays, not to mention Monsterfest's favorite, Halloween deserves its own songs. Christmas has its carols, July 4th has its anthems and thanks to Halloween III, the scariest day of the year has its countdown jingle. Check out the embedded clip after the jump to brush up on your singing and start the countdown. You can catch Halloween III in all its goofy fun during Monsterfest.
Read More