Should Screenwriters Win the Nobel Prize for Literature?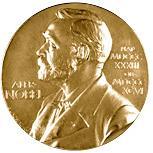 The sixth and final 2007 Nobel Prize was awarded today, to
three American economists for their work in mechanism design theory (which
sounds as though they dreamed up new plans for gadgets, but that's probably not
what it means).
This got me thinking about the Nobel Prize for Literature,
the only one that recognizes achievement in the arts. Since 1901, 104 people have won: novelists,
poets, essayists and playwrights. Some
of them have also written screenplays, but none is primarily a screenwriter. This year's winner is Doris Lessing,
"that epicist of the female experience, who with skepticism, fire and
visionary power has subjected a divided civilization to scrutiny,"
according to the prize committee (maybe there will one day be a Nobel Prize for
Nobel Prize winner descriptions). Lessing has written a few teleplays, but she's primarily known for her
books, "The Golden Notebook" and "The Fifth Child" in
particular.
<p class="MsoNormal"><a href="http://en.wikipedia.org/wiki/Auteur">Auteur theory</a> notwithstanding, arguments have been made that since film is more of a collaborative art than books or
plays, it is unfair to credit a screenwriter with authorship of a work. But books have editors, and plays have
directors. So why not give the Nobel
Prize to a screenwriter?</p>
<p><script src="https://polls.amctv.com/js/data/228.js" type="text/JavaScript"></script></p>
Read More