Shivers! End Of The Line Poster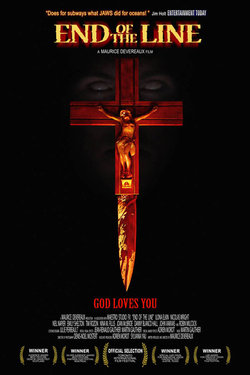 There's something about putting religious aspects into a horror movie that spooks me to no end. But it's a dicey proposition. The Exorcist did it so right. Stigmata didn't. Just looking at the movie poster for End of the Line (no, not the Jay Russell movie about coal miners) gives me the heebie jeebies. Making a crucifix into a bloody dagger is terrifying enough and it makes me think that the film which features religious fanatics will get in my head for days. And man, the trailer looks nightmarish.
What's the story here? Quotes Bloody Disgusting from the press release, "In this
unsettling and creepy thriller, Karen (Ilona Elkin), a young nurse who
works in a psychiatric ward, boards the last subway train of the night
only to have it stop suddenly in the middle of the tunnel. As those
around her are brutally murdered, Karen and a handful of survivors must
face supernatural forces, homicidal religious cult members, as well as
their own fears and suspicions of Armageddon, in order to survive." Armageddon, too? I'm not just shivering; I'm shaking.
Read More