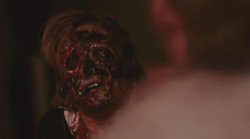 While Saw IV might have ruled the box office this past weekend, raking in $32 million, another, smaller but better horror title opened on several screens. The Signal looks like a cross between cerebral J-Horror and the balls-out insanity of 28 Days Later. The film follows the chaotic downfall of society after a mysterious signal is broadcast over nearly every electronic device and turns the viewer into a blood-thirsty murderer.
From the looks of the trailer, The Signal has a contemporary feel, like a modern day Texas Chainsaw Massacre or Halloween. It's a film that takes risks, and it's going to need our support to grow. So, find a theater where it's playing and see it at least once and hopefully the film will see a wider release. The only way we'll start seeing good movies in the box office top ten is if we start supporting them.
For more on The Signal, Bloody-Disgusting.com has a new podcast and stills.
Read More