Screenwriter Talks Star Trek XI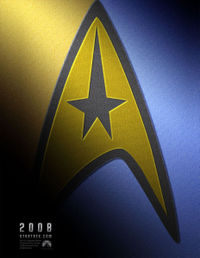 There's a thought-provoking interview over at Trekmovie.com with Robert Orci, one of the screenwriters of J.J. Abrams' Star Trek XI. Robert — by contractual necessity — is being tight-lipped on a lot of what we can expect in the upcoming prequel, but a couple of new details were leaked in the course of the interview.
The first and most important is that Star Trek XI will feature the full classic Trek crew. This may seem obvious, but there's some continuity difficulties with it: Chekhov didn't show up until Season 2, for example, so it's not even clear that he was on the Enterprise before the start of the original show.
Second, Orci says that unannounced casting for roles like Bones, Kirk and Sulu aren't just unannounced, the roles aren't filled. They've got ideas, but clearly they are taking their time and trying to find the perfect actors for the roles. I'm personally pretty pleased by their caution: recasting such iconic characters inseparably linked to one actor's performance is extraordinarily difficult and should not be done haphazardly.
Finally, Orci tries to clarify what kind of film Star Trek XI is. Is it a reboot or is it a prequel? His answer is that it's not a reboot, since it is in line with canon — rather, it's both a prequel and a reimagining of what classic Trek means. I assume this means it's largely canonical, but they're going to do something about the 60's radar screens on the Enterprise bridge and the go-go uniforms.
Interview – Orci Talks Casting, Characters, Canon and Kirks [Trekmovie]
Read More