Screenwriter Chosen for Goth Adaptation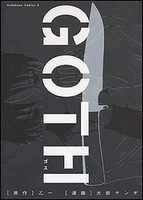 JT Petty will script Fox Atomic's adaptation of the
award-winning Japanese novel "Goth," which was written by Otsu-ichi
and made into a manga by Kendi Oiwa. It
tells the story of Boku and Yoru, two death-obsessed high school students who
team up to solve some murder mysteries.
Fox Atomic released the futuristic zombie thriller 28 Weeks
Later; their sports spoof The Comebacks is due out October 19th.
Petty's past writing credits include two recent novels, "The Squampkin Patch" and "Clemency Pogue: Fairy Killer," as well as video games "Batman Begins" and "Splinter Cell." He also wrote and directed The Burrowers, currently in post-production.
Hopefully this development will inspire Petty to update his website. There's some neat stuff there, but nothing new since June.
Read More