"Scourge": A New Take on Flesh-Eating Aliens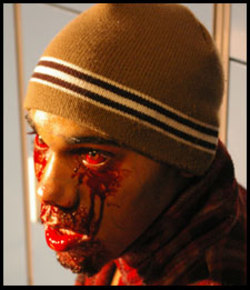 Horror is the perfect genre for aspiring, "indie" filmmakers — just look at John Carpenter's Halloween debut or Sam Raimi's Evil Dead Series. So it's always exciting to hear of a new independent chiller like Scourge. Written and directed by Jonas Quastel, this nasty film follows around a creature that burrows into its victim's belly-button, eats his internal organs and controls their motor functions — forcing them to consume a massive amount of calories. Of course, the body then rejects the food intake, leaving the victim to die in a pile of vomited entrails. The folks over at Bloody-Disgusting.com got their mitts on exclusive images like this one.
The film sounds like a mix between Slither, Alien and the gluttony sin from Seven . While the calorie consumption might sound lame at first, it could end up being an interesting commentary on society's love of fast food and obesity. What better way to explore those themes than having characters vomiting up their blood insides? The film is currently in post-production and is looking for distribution.
Read More