SciFi Scanner for 10/08/2007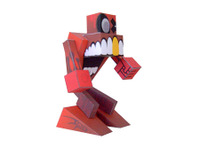 • The director of the upcoming Astro Boy movie discusses his nascent love affair for Osamu Tezuka's famous boy robot.
• Pink Raygun on 80's Flash Sam Jones' recent guest appearance on SciFi's Flash Gordon: "It hurt to look at Sam Jones, the Flash of 1980, guest star as the criminal Krebb in this episode. Poor guy looks like he spent the 80s and 90s at the David Lee Roth health spa outside Las Vegas, which is really just a trailer park with an adjoining strip club."
• Putting the incredible in The Incredible Hulk: the ultimate Hulk PC Case Mod.
• Some utterly stupid reasoning on why a Halo movie will be a box office failure.
• A really fascinating, if bleak, article by Brian Aldiss for The Times Online on the prophesies of science-fiction.
• An excellent papercraft robot with a bit of bling in his dentistry for you to perch atop your computer monitor.
• The US Military is designing cyborg insects to penetrate enemy territory.
Read More