SciFi Scanner for 10/04/2007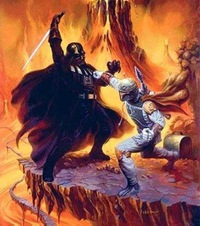 — The long and proud tradition of the casting couch lives on: it looks pretty sure that Robert Rodriguez has cast his girlfriend Rose McGowan as the new Barbarella. I can dig it, as long as she's put through the paces of the Orgasmatron.
• Michael Caine thinks Heath Ledger's a pretty good Joker.
• If you can't wait until next week, IESB is hosting several clips from the next episode of Heroes.
• Things you shouldn't do in science fiction writing.
• What was this secret agent doing at the Podcast and New Media Expo last weekend? Viral marketing, natch.
• The world's lamest action figure: that of a 55 year old British woman who once, a long time ago, hung out with someone pretty cool. Meet the Sarah Jane action figure.
• The writers of Lost swear it's all going somewhere, really. I don't believe it for a second.
• An awesome line-art Tuskan Raider t-shirt, courtesy of the boys at the Chopshop Store.
• The Ministry of Silly Robot Walks.
Read More