SciFi Scanner for 10/02/2007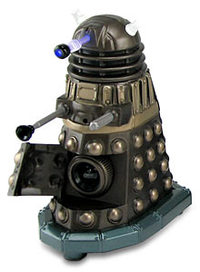 • Tom Cruise is building a £5m bunker in case Xenu attacks Earth.
• An excellent resource for those two lazy to read comic books: a summary of all 52 online graphic novels for NBC's Heroes.
• The cheesiest vampire soap opera ever filmed, Dark Shadows, re-enacted by dolls.
• As a Mac owner, I miss out on all of these cool genre web cams by dint of my built in iSight. You can add this excellent Dalek Webcam to the geeky technological doodads Apple's thoughtlessness has caused me to miss out on.
• But these Dalek cufflinks would still look good with my tux.
• Zachary Quinto, the new Spock, gushes about J.J. Abrams' genius and the new Star Trek XI castings.
• One of the actresses in the Mos Eisley cantina scene has died. She played Brea Tonnika… also known as "The Star Wars action figure I never knew what to do with."
• Another smug and insufferable Ridley Scott interview at Wired.
Read More