Science Fiction Novelist Wins Nobel Prize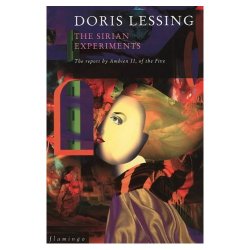 Did you ever think you would read that headline? And it's true. Well, sort of.
In giving the 2007 Nobel Prize in literature to novelist Doris Lessing, the Academy called her "that epicist of the female experience, who with skepticism, fire and visionary power has subjected a divided civilization to scrutiny."
A novelist since 1949, Lessing remains best known for her 1962 The Golden Notebook, considered a classic of feminism (though in later years Lessing had few kind words for what she came think of as doctrinaire feminism).
But while some feel that Lessing's willingness to embrace difference genres including (gasp!) science fiction may have kept her from receiving the prestigious award in the past, despite having been short-listed for years, the Nobel citation explicitly praised her "vision of global catastrophe forcing mankind to return to a more primitive life," noting such recent works as Mara and Dann and its sequel, The Story of General Dann and Mara's Daughter, Griot and the Snow Dog.
Lessing turned to science fiction in the 1970s for the best reason, as a way of getting us to look at our own world by presenting it through an imaginatively different lens. Her sci-fi efforts have not always been kindly received: reacting to the Nobel announcement, literary curmudgeon Harold Bloom sniffed at them as "quite unreadable … fourth-rate science fiction." And no less than Ursula K Le Guin had harsh words for Lessing's most recent book, the pre-historical novel The Cleft: "If we are offered the story as an origin myth of human sexuality and gender, I can't accept it…I see in it little but a reworking of a tiresome science-fiction cliché."
Still, the award will undoubtedly bring a whole new audience to these novels that would otherwise remain ignored in the halls of Serious Literature. And the prize citation's explicit mention of her science fiction work has to be seen as a step forward in the literary consciousness of the genre.
Read More