Scarlett Johansson as Wonder Woman in the Justice League Movie?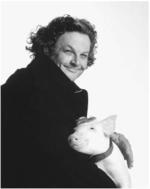 The Justice League of America movie isn't scheduled to be released until 2010, which means there's going to be a lot of time for speculation about it. So what if the film hasn't even been cast yet—that's one of the best things to speculate about!
As reported here yesterday, director George Miller (that's him to the right, with the star of Babe: Pig in the City) wants fresh faces who can grow into their roles in what he hopes will be a series of films.
But what if someone else had been hired to direct it? Some smartasses at the LA Times gave some thought to how the parts of Batman, Superman, the Flash, Green Lantern, Wonder Woman, et al, might have been cast by other directors, such as Quentin Tarantino, M. Night Shyamalan, Mike Leigh, Tim Burton, Brett Ratner, George Lucas, or Woody Allen. (Woody's proposed cast: Scarlett Johansson as Wonder Woman, Ben Stiller as Superman, Elliot Gould as Martian Manhunter and Seth Rogen as Aquaman. That's more than a few people I really wouldn't want to see in skintight superhero costumes.) Their guesses make us even more glad that Mad Max Miller was the man called on to do the job, despite the Times' conjecture that he could cast Mel Gibson as Superman.
Read More