Sarah Michelle Geller in 4-color: Southland Tales and Buffy graphics novels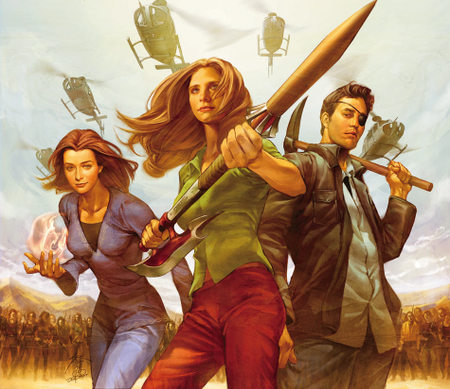 This is a big week if you're a fan of the illustrated Sarah Michelle Gellar (and honestly, who isn't?)
Halloween marks the publication of the first bound-edition of Buffy The Vampire Slayer: Season 8. Dark Horse Comics have collected the first five issues, titled The Long Way Home and published it as a 136-page graphic novel.
Without giving too much away, the Buffy comic picks up where the series left-off. Buffy is in England training an army of Slayers to fight vampires and demons. The artists faithfully capture Xander and Buffy, but it seems like they struggle with Willow, because there is no comic-book archetype for small-breasted Jewish, Lesbian Witches. Joss Whedon reports that we won't be seeing Angel and Spike in the Buffy comics because those characters are not his property.
Meanwhile, Miss Gellar's new movie (Southland Tales) opens November 9th, so the three prequel graphic novels are being re-released as one omnibus. Graphitti Designs has collected the first three installments (Two Roads Diverge, Fingerprints and The Mechanicals) into one 360-page, 30-dollar epic. The books were released last year to provide details background on the ambitious film, giving details on Kelly's pseudo-science like liquid karma and a rollercoaster that can travel through time. (Sounds like the stuff of the Donnie Darko Director's Cut!) The novel will also outline back stories of the principle characters, including Sarah Michelle Gellar as Krysta Now, a former porn-star who is going into reality television with her own brand of motivational self-empowerment.
The re-issued book was supposed to hit shelves on October 15th, but like so many aspects of this snake-bitten project, the novel is nowhere in sight.
Read More