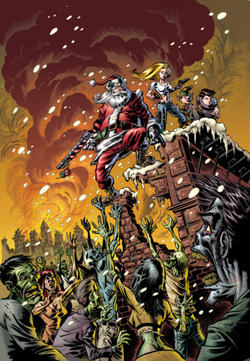 Santa isn't usually a horror guy, but he has dabbled in the genre — from headlining the slasher Silent Night, Deadly Night to making an appearance in The Nightmare Before Christmas.
Soon, Santa will have to do battle with the most unlikely of foes — zombies! Hollywood Gang Prods recently picked up the rights to the graphic novel The Last Christmas, reports Variety.
It's the story of a reclusive Santa, who retreats to the North Pole after a nuclear war chars the Earth. When his fortress of solitude is invaded, Santa must fend off hordes of zombies and renegades.
Ho, ho, ho.
Read More