Sam Raimi Thinks Tattoos Have Ghosts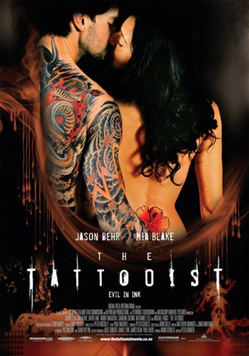 Over at The Hollywood Reporter, there's news that Sam Raimi's Ghost House Pictures has inked a deal for North American rights to Peter Burger's The Tattooist, a supernatural thriller starring Jason Behr.
So, tattoos are evil? I guess you have to decide; here's the synopsis: "American tattoo artist Jake Sawyer (Jason Behr) explores and exploits ethnic designs from around the world. At a tattoo expo in Singapore, he glimpses the exotic world of traditional Samoan tatau in the work of the fiercely proud Alipati (Robbie Magasiva). Fatefully, Jake is attracted to Alipati's beautiful cousin, Sina (Mia Blake).
"When Jake impulsively steals an ancient Samoan tattooing tool, he unwittingly unleashes a powerful angry spirit. Suddenly, his art takes on a frightening new dimension, exposing everyone he touches, including the feisty Singaporean Victoria (Caroline Cheong), to mortal peril." To me, a film like this speaks to middle America's fear of anyone with tattoos. Have a tattoo and you're evil as any Hell's Angel with a grudge. Still, the movie looks somehow eerie.
Read More