Romero Exhumes A "Diary" Sequel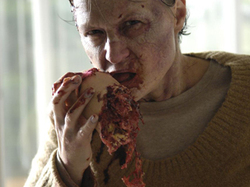 How sure is George Romero that you're going to love his new zombie film, Diary of the Dead? So sure that he's already at work on a sequel.
According to today's Hollywood Reporter, Romero and his production company have already greenlit another installment of his new zombie series, this time taking the survivors from Diary onto a deserted island where they battle the dead once more. This will be the first time that Romero will be making direct continuation from one zombie film to another, although what's really important is what Romero has on his mind. Diary delves into our media-saturated age, so I can't help but wonder what's got George's goat right now that he can't wait to resurrect the dead once more. Who cares? More Romero zombies are coming, folks!
I was lucky enough to see Diary at Fantastic Fest last month and I absolutely loved it;
it's more than a return to form for Romero, but it's something new, a
filmmaker experimenting with a different style of storytelling but who
doesn't lose his focus on either the story he's telling or the
statement he wants to make. It's also scary, funny, and as gory as
hell, so I think (and hope) the fans will be pleased. The Weinstein
Company has it right now and all we know is that it's supposed to be in
theaters next year, but no date has been set yet.
It can't come soon
enough.
Read More