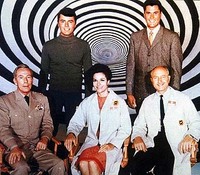 You may not recognize the name Whit Bissell, who was born on this day in 1909, but you know the face. Through the 1950s, 60s and 70s he was one of Hollywood's most regularly employed character actors, and his resume included most of the television dramas of those years. He specialized in playing authority figures, including a variety of scientists, mad and otherwise. On TV's "The Time Tunnel," the only series on which he was a regular cast member, he was Lt. Gen. Heywood Kirk, who spent every episode at mission control fretting about what dangers our heroes were up to in whatever past or future era the experimental device had whisked them off to this week. (That's him bottom left in the photo.) He was also in "The Trouble with Tribbles" episode of "Star Trek," as well as Soylent Greet, the 1960 The Time Machine (and its 1978 TV remake), the original Invasion of the Body Snatchers, Soylent Green, Target Earth, Monster on the Campus, and many, many more.
But Bissell is best remembered as the co-star of those 1957 classics I Was a Teenage Werewolf and I Was a Teenage Frankenstein. In both he was the mad doctor responsible for giving our teen hero bigger problems than zits and scoring a fake ID. As a contemporary American descendant of Dr. Frankenstein in the latter movie, he also got to deliver his best line: confronting his creation, he demands, "You have a civil tongue in your head.I sewed it in myself!"
Bissell died in 1996, not long after he received a Life Career Award from the Academy of Science Fiction, Fantasy & Horror Films.
Read More