Remembering Deborah Kerr and "The Innocents"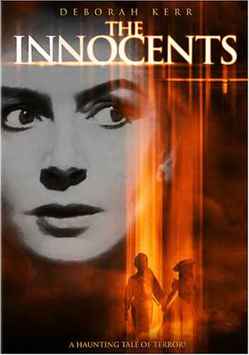 The passing today of Deborah Kerr, one of the classiest and most talented movie stars of the 40s, 50s, and 60s, may not seem like news to a horror blog, but it is when you consider that she starred in one of screendom's all-time finest ghost stories, Jack Clayton's The Innocents.
Based on the classic Henry James novel The Turn of the Screw (adapted countless times for film, stage and TV, but never better than here), Kerr starred as a repressed governess in charge of two children on a vast English estate who comes to suspect that the children are possessed by the ghosts of the former governess and her lover, both of whom met with mysterious deaths. Putting Kerr on edge all the more is the salacious nature of the haunting, which does not fall in line with her more puritanical way of life at all.
Related Post: Deborah Kerr and "The Kiss"
Most critics point out The Innocents as an example of what a "classy" horror film is supposed to be like, since it doesn't contain any monsters and everything is done only through the power of suggestion, but it also shows why horror is the most cinematic of all genres. Beautifully directed by Clayton, the film always suggests that what's happening in the film is in the imagination – not just yours, but the character's, as well. Clayton does this simply through the power of film making and is aided immeasurably by Kerr, in a performance that many deem as one of her very best (and that's saying a lot). To see her character begin to fall into madness due in part to her strict beliefs is also part of what makes the film so effective and unsettling.
Another aspect of The Innocents' success is the cinematography by the late, great Freddie Francis; this is, without question, one of the great widescreen movies of all time, all the more so for being in black & white. The use of B&W represent not just the unknown aspects of the haunting, but also Kerr's character's sexual repression and black vs. white viewpoint and it's Francis' finest work in his long and cherished career. It's astonishing that neither Kerr, Clayton, or Francis were nominated for Oscars for this film, which was a critical and audience hit in 1961, but The Innocents has proven itself to be a timeless horror classic and a major influence of such films as The Haunting, The Sixth Sense and The Others. If you haven't seen it, you're missing out.
Read More