Remembering A Horror Great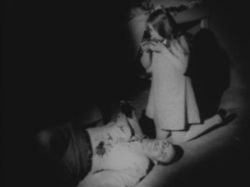 Last week, the horror genre lost one of the most influential artists of the 1960s with the death of actor/producer Karl Hardman.
Hardman had one of the all-time great horror roles: playing Harry Cooper in George A. Romero's Night of the Living Dead. Hardman was the hard-ass counterpart to Duane Jones' more reasonable Ben, and memorably met his end at the hands of his real-life daughter Krya Schon, in one of the most shocking moments in horror film history. Hardman not only co-starred in Night, he also produced it and became the film's main historian and caretaker, providing a wealth of materials for the film's DVD and laserdisc special editions. For more on Hardman, check out these lovely remembrances from daughter Kyra Schon and from Synapse Films' head Don May, Jr.
Charles B. Griffith's career may not have been as high-profile, but his works are as well-remembered and as important to horror fans. Griffith was the screenwriter-in-residence for Roger Corman, writing such beloved monster classics as Not of This Earth, Attack of the Crab Monsters, and It Conquered the World, in addition to such action greats as The Wild Angels and Death Race 2000. But he will always be best known for writing the horror comedy masterworks A Bucket of Blood (starring Dick Miller) and the original Little Shop of Horrors. Griffith was one of the great genre screenwriters for always finding ways to insert subversive black humor and anti-authority sentiment into pretty much everything he wrote and deserves to remembered as one of the great satirist of his time, if only for Death Race 2000.
Both he and Hardman will be missed.
Read More