Remaking "Funny Games" American Style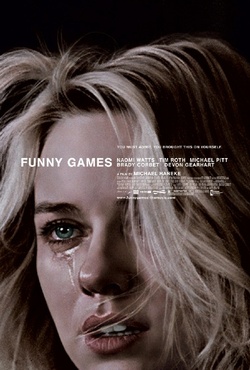 The marketing for the Michael Haneke remake of his own Funny Games is heating up. After the trailer popped up online last week, the striking poster you see here found its way onto Cinematical.com.
It's amazing how that single, painterly image of Naomi Watt's tearful vacant stare captures the emotional experience of Funny Games. I checked out the original Austrian film earlier this week and it definitely delivers the goods. Part black comedy, part emotional thriller, with a dash of experimentation, Funny Games turns film convention on its head and pulls you out of your comfort zone. It will be especially interesting to see if Haneke Americanizes (i.e. sensationalizes) his original work. From the tag line on the poster, "You must admit, you brought this on yourself," it sounds like the remake has the same darkly comic tone.
The remake might be even more interesting if you're able to compare it with the original, especially considering the film's experimental nature. So just see it already.
Read More