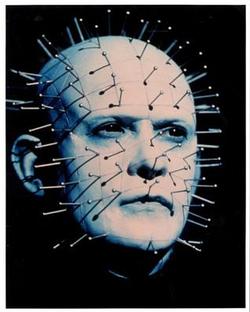 Today, The Hollywood Reporter says there will be a remake of the Clive Barker novella turned 80s movie, "Hellraiser." Actually, it's being spun as a "reinvention." Says the trade pub, "Following the recent success of the Halloween remake, Dimension is
moving ahead on reinventing Hellraiser, setting Julien Maury and
Alexandre Bustillo to write and direct the remake of one of
horrormeister's Clive Barker's best-known creations."
"The filmmakers said they had the blessing of Barker to re-appropriate
his story and also had a playful message to any horror fans that were
ready to trash the idea of a remake, "No tears, please; it's a waste of
good remaking!" Right: let me see the script and I'll be the judge of that.
Maury and Bustillo had recent success with "Inside, about a pregnant woman who loses her boyfriend in a car crash
and subsequently is violently haunted by a mysterious woman. The
Weinstein Co./Dimension picked up the distribution rights to their film
debut this year." This deal just proves there are too many remakes in the horror movie genre. Still, Inside was given a good review at CInematical. Maybe – just maybe – the new Hellraiser will be OK.
Read More