Real Life Horror: Killer Germs Invade USA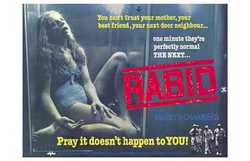 Today, the Washington Post is reporting news of a scary super germ. Says Rob Stein, "A dangerous germ that has been spreading around the country causes
more life-threatening infections than public health authorities had
thought and is killing more people in the United States each year than
the AIDS virus, federal health officials reported yesterday.
"The
microbe, a strain of a once innocuous staph bacterium that has become
invulnerable to first-line antibiotics, is responsible for more than
94,000 serious infections and nearly 19,000 deaths each year, the Centers for Disease Control and Prevention calculated." This chilling news reminds me of that Jamie Lee Curtis movie, Virus, except on a much larger scale. It also reminds me of Cronenberg's Rabid, starring one-time porn star Marilyn Chambers. But those are just frightening movies. This new staph thing: it's scary real!!
Read More