Real-life Horror: Spider Web Nearly Kills Boy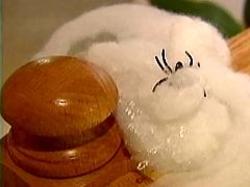 There are monsters and goblins and things from the underworld that are unmentionable. Then, there is the horror we wreak upon ourselves, sometimes so surprising, it's scarier than anything imaginable. Along those lines, a young boy recently nearly died from choking in a Halloween decoration in central Florida.
According to Local 6 News, "The Hampton family built a fake spider web out of nylon and draped it inside their Tampa home for Halloween this year. Dawn Hampton said her son, Cade, became entangled in the web and was unable to breathe.
"She said she will never forget finding her son in the web.'His little face, I saw it around his neck and his face is completely reddish purple,' mother Dawn Hampton said.The
spider web was so tight that Cade's parents said they were not able to
get a finger between it and his neck. The couple quickly cut the nylon
with scissors and saved the child.'All I was doing was wrapping it around my shoulders and it caught up to my neck and I couldn't breathe,' Cade said." Cade is OK now.
Has something you bought for Halloween ever turned on you, like the spider web that nearly killed the Cade boy?
Read More