Re-Animator Sequel Too Political for Hollywood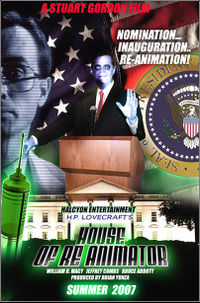 I've long been a fan of the wry, gory Re-Animator series. The first two films are wonderful, Lovecraftian pastiches of the Frankenstein myth, galvanized by liberal splatterings of gore and nudity. The third film, Beyond Re-Animator? Best not to talk about it.
A sequel, House of Re-Animator, has been talked about for awhile. The plot was said to involve Herbert West, the titular re-animator of the dead, moving to the White House as the personal physician to the vice president… who happens to be dead. Gosh, how did they ever come up with that idea? It was a clever little notion, and original Re-Animator director Stuart Gordon was attached to direct, which boded well.
But now it's canceled again, and Re-Animator star Jeffery Combs is claiming it's just too critical of the current administration for the politically correct "straight to home video" market.
"I wish I could give you a better prognosis, but that is one of the most-asked questions I've been getting lately, and it's not even close to getting made," Combs said in an interview. "Too many people feel the heat, and studios are wary of the subject matter."
I'm sorry, that's just ludicrous. The idea that Hollywood wouldn't touch a film that mocked the Bush administration is absurd: Hollywood hates Bush, the Administration's approval ratings are at an all time low, no one cares enough about Re-Animator's political message to get offended by it and movies like Fahrenheit 9/11 were number one at the box office during a presidential election.
It doesn't take a genius to guess the real reason this isn't getting backers: because the third movie was so terrible.
Re-Animator Sequel Not Likely [SciFi Wire]
Read More