Raimi To Revamp 20,000 Leagues Under The Sea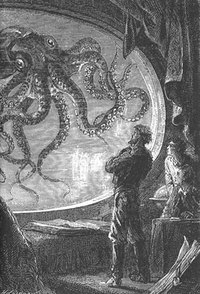 Short of a War of the Worlds remake that fully indulges some upcoming director's anachro-technologist sense of aesthetics, I have long hoped for a 20,000 Leagues Under The Sea adaptation that saw the Nautilius in full steampunk glory. But the last guy I'd have expected to bring me such a remake is Sam Raimi, director of the Spider-Man films and the Evil Dead series.
Color me pleasantly surprised. Raimi won't be directing the film — which is a slight relief, since I don't think his 3 Stooges-based energy is right for Verne's novel. But the project is in pre-production and they are currently looking for a director.
Raimi has kind words for the Disney version: "I'm a big fan of the first book, as well as the Disney movie that was made many years later in the 1950s. It's screaming for a reinterpretation, because as great as the other picture was, it was 50 years ago now."
He's got a point, depending on what he means by "reinterpretation." 20,000 Leagues Under The Sea only works as a bit of retrofuturism, but the Disney film, for all of its gorgeousness, managed to remove much of the pungent mystery from the Captain of the Nautilus, that strange technological Sikh, Nemo. If a reinterpretation actually means a Nemo character study, as opposed to "updating" it, I may be in heaven.
Raimi Heads 20,000 Leagues Remake [MTV Movies Blog]
Read More