Plucker, Another Graphic Novel, Optioned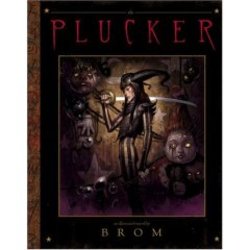 The Plucker was supposed to be a graphic novel for teens, but it's goth enough to scare adults, too — especially if you go all Sylvester and cling to the ceiling when things go bump in the night. Maybe that's why The Plucker's just been optioned. According to Variety, New Line Cinema has optioned The Plucker. Temple Hill Entertainment partners Wyck Godfrey and Marty Bowen will produce with Terry Thoren.
Published
in 2005, The Plucker centers around a toy
jack-in-the-box that awakens beneath its owner's bed and realizes it
has been relegated to a place where undesired playthings go to die.
There, he discovers the Plucker, a malevolent spirit from a mysterious
new toy that has evil designs on the young owner of the toys.
Oooooo. Jacks-in-the-box always creeped me out out when I was a kid. I even took the scary looking clown head out of my musical jack in the box and replaced it with a plastic duck head. Anyone think The Plucker will actually get made into a movie? And I wonder why it just was optioned now, two years after publication.
Read More