Plague Town: Good and Gross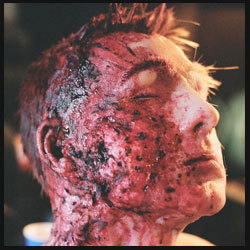 David Gregory has for years been a documentary filmmaker. I'm not talking Frontline-type investigative stuff. I'm talking electronic press kits and salacious films about murder and mayhem. Oh, and horror documentaries: Gregory's done everyone from Lloyd Kaufman to Robert Englund.
Now, for his first feature film, he's directing a movie called Plague Town, which our Jason Morgan wrote about when the news hit. Now there's an update: according to Bloody Disgusting, "It's a story of a dysfunctional family's vacation to
the Irish countryside and their encounter with the town's diseased and
depraved residents."
So what's special about Plague Town? Says Gregory, "(T)he reality is
that I wanted to make it a modern horror film. I wanted to do something
that has a certain amount of violence and shock value, and I wanted to
stray away from the era a I love, 70's stuff. But that's been used a
lot lately. There's been so many of those kinds of films lately so I
wanted to change and twist those conventions. And I'm talking about the
rural horror films of recent years, in hot climates with rusty
instruments, body parts strewn about and nubile teens. I wanted to make
it like a really twisted fairy tale, with a certain amount of
innocence. It makes the violence that ensues that much more alarming."
I like the way Gregory talks: there's no ego, just excitement…and a work ethic to get the job done. This is one scary movie I'll be looking forward to seeing. And look at that photo: good 'n gross.

Read More