Philip K. Dick…Meet William J. Frick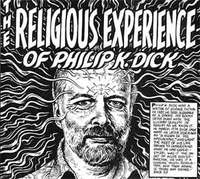 The latest Hollywood adaptation of Philip K. Dick's novels is perhaps the most surprising: a fictional autobiography meshing the real life of Dick with the events and worlds of his novels.
Your Name Here is the upcoming Dick biopic that, strictly speaking, isn't about Philip K. Dick at all. Bill Pullman stars as not Philip K. Dick but as William J. Frick. Consider it a biography of Dick's own surreal internal world, like David Cronenberg's Naked Lunch or Fur.
It sounds fascinating. One of the stars, Taryn Manning, recently described her role to MTV as being based upon Victoria Principal, the woman Philip K. Dick wanted to play the lead in Blade Runner.
According to Manning, Dick (or rather, Frick) "is "infatuated with my character… she starred in that movie Earthquake, and he is obsessed with her even though he has a wife. All around his office you see pictures of me. One day, he does a huge line, and the next thing you know he's in the back of a limo, and there I am!" Naturally, though, she's not human: she's a replicant.
I think I'm really looking forward to this one. Dick is one of those authors like William Burroughs or Franz Kafka where the internal world of his hallucinations is more important than the mundane events of his life. I can't wait to see how they pull this off.
Taryn Manning Leaves Sex and Drugs for Robots [Cinematical]
Read More